Kitty litter
Jun

09

2008
Jennifer Dooms loves animals, especially cats. She has three adult cats of her own, but she is currently also caring for a mother cat with four kittens. If it wasn't for Dooms, it is very likely the mama cat and her babies would have been destroyed if taken to an animal shelter.
Dooms is one of many volunteers in the area who are fostering kittens that are too young to be adopted out of animal shelters in the hopes they'll be adopted down the road instead of euthanized. Dooms got involved after reading an article in a newsletter put out by Cat House on the Kings, a no-kill, no-cage cat sanctuary on the Kings River in Parlier.
"They get tons of calls from people around the Valley with feral cats with kittens in their apartment complexes and neighborhoods," she says. "It's overwhelming."
Overwhelming is an understatement. While animal shelters, such as the Central California S.P.C.A., do what they can, there is not money or space enough to care for all of the homeless pets. Despite the shelters' best efforts, hundreds of dogs, cats and kittens are euthanized because there is only so much they can do.
"There are just too many," says Kathy Scheer, a volunteer who has been working with Cat House on the Kings for about 9 years.
"The S.P.C.A. is too full to take care of them," Dooms says. "They are putting them to sleep as fast as they are getting them."
An article in the June 9 issue of the Fresno Bee (http://www.fresnobee.com/263/story/654408.html) said that on the average 89 kittens are brought into the shelter per day and only 15 or 20 are adopted on a "good day". Some days, adoptions run as low as only a couple. The shelter is bursting at the seams and euthanizing is its only option.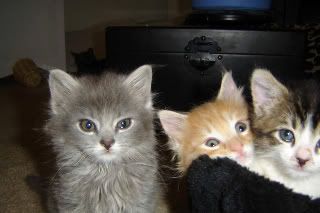 These kittens are in need of good homes. Photo: Susan Olsen
The problem is not just a local one, its nation-wide. Susan Olsen, who is best known for playing Cindy Brady on "The Brady Bunch," fosters kittens in Southern California.
"It is heartbreaking to go to the shelter and see just how many of these tiny babies get dumped there, " Olsen says. "I get emails almost daily about new underage kittens arriving at the shelter."
While all pets are special and there are lots of dogs in need of homes, the problem is mainly with the cat population these days.
"People spay and neuter their dogs and, because of leash laws, they don't let them roam the neighborhoods, humping everything in sight," Olsen says. "People let their cats roam, they don't get them fixed."
"Fresno County has one of the worst cat overpopulations in the country," Dooms says. "This is due to the backyard breeders preventing the mandatory spay and neuter law to be passed."
Dooms also says that in 10 years time, the litter from one cat, left unchecked, can produce one million offspring.
Scheer makes weekly visits to the S.P.C.A. to rescue kittens and their mothers. Although not all kittens in need of care have their mothers with them, Dooms, who has been a kitten foster parent for about five months, says the litters where the mother is present work best for her.
"I am able to work a full-time job and have many hobbies and still give the kittens and mothers a safe, temporary place to live and a lot of love," she says. "I just look forward to every night when I come home, getting the opportunity to play with them. They are so happy when they see me. There is one little girl that always has to be in my lap. I am so grateful that I have this opportunity."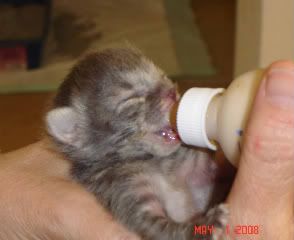 Some foster kittens are so young they still need bottle feeding. Photo: Susan Olsen
Kittens are dropped off at shelters, with or without their mothers, at all stages of development. Some are only days or even hours old. Olsen's foster kittens have come to her without their mothers. Although she will take in "bottle babies" (those with no mother and that can not yet feed themselves), during this first year in her role as a kitten foster parent, she has learned what she can and cannot handle.
"I would not take the newborns," she says. "I recently lost a couple and I believe it's because I didn't realize just how much they needed. There is no substitute for a feline mother when it comes to newborns. I've been told by the experts that you can do everything right and it's still a crap shoot."
Not all foster kittens survive, no matter how much care they receive. Their losses are difficult, but it makes the need to preserver and save others that much stronger.
"You just want to save them all and you can't," Scheer says.
<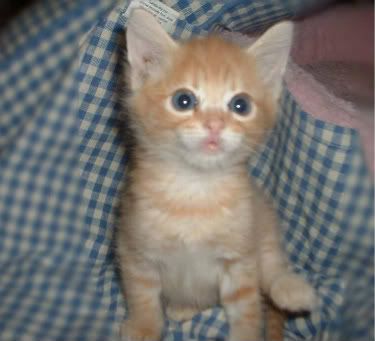 Foster kittens are raised until they big enough for the shelters to put up for adoption. Photo: Susan Olsen
Fostering takes great love and dedication. But, as in all things, you can not let it overwhelm your life.
"This is an important lesson," Olsen says. "You really have to know your limits. You can't take on more than you can handle. It's irresponsible."
Much has been written on the benefits of pets as companions for the elderly and others with disabilities. For Olsen, fostering kittens is serving a dual purpose. In addition to saving lives, she hopes having the kittens around will benefit her son.
"My son is autistic," she says. "I feel like pets are very important to him because children with autism have a disability when it comes to empathy. Compassion is harder for them to understand and develop. I have hoped that these babies have helped bring out these qualities in my son. I know they have."
Fostering is 100% voluntary. The foster parents pay for the food and kitty litter out of their own pockets. If they are sick and need medical attention, depending on the fostering program they are in, the vet bills could come from the foster parents' pockets as well.
"I haven't had to pay for a vet bill," Dooms says. "Kathy Sceer has given me the supplies I have needed, no cost to me."
There is no form of compensation involved other than knowing they've saved the lives of these kittens and the affection the kittens have given them in return while in their care.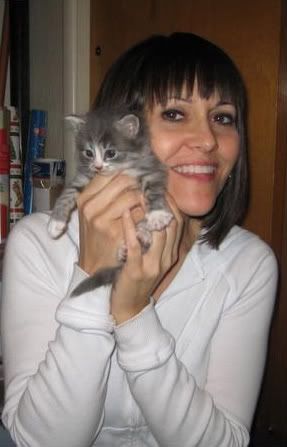 Jennifer Dooms holds one of the foster kittens in her care. Photo: Jennifer Dooms.
"If surrounding yourself with high levels of cuteness and love appeals to you, sign up," Olsen says. "We all like to feel loved and needed, or kneaded. Being able to stick my face into a little pile of kittens and hear a cacophony of purrs is great for me."
What can you do?
There is a great need for kitten foster parents. The local S.P.C.A. or organizations such as Cat House on the Kings can help prospective foster parents get involved.
"There is nothing like looking at the little faces, watching them grow, play, thrive, get homes and realize if you weren't doing this, these kittens would not be alive," Scheer says.
Olsen has fostered kittens through the animal shelter in her area as well as through an organization called Precious Paws. TV brother Chris (Peter Brady) Knight and his wife Adrianne Curry have adopted cats through Precious Paws and Curry has donated clothes to be sold on eBay to help raise money for the organization. Olsen has also started a blog on My Space about her experience as a kitten foster parent. www.myspace.com/kittencarpathia
If you can't foster, consider adopting. There are numerous dogs and cats as well as other critters who need good, loving homes. But understand that a pet is a commitment. Some pet owners who no longer wish to be burdened with their four-legged family member, have purposely taken and dumped them off on the side of the road far from home. This does nothing but exacerbate the homeless pet problem and severely scare, confuse and depress the cat or dog that is abandoned.
"Every single cat or kitten that is part of the foster program will be spayed and neutered, given their shots and put up for adoption," Dooms says. All they need is a good, loving home to go to.
Susan Olsen with friend Bill Morgan poses with a recent litter of kittens that she fostered. Photo: Susan Olsen
Spaying and neutering your pet, or even strays, is a great way to help curb the pet population explosion. Catch and release programs exist that capture feral cats, sterilize them and then return them to the area they were living.
"Please don't think you are doing them a favor by just feeding them," Olsen says. "It has been proven that killing stray cats does no good, sterilizing them is the only way to get rid of a colony. When you kill members of a colony, they replace them. But when you sterilize them, they tend to just grow old together and not recruit new members."
"There are ways of getting spays and neuters done very inexpensively," Dooms says. She suggests contacting Cat House on the Kings for information or any other shelter.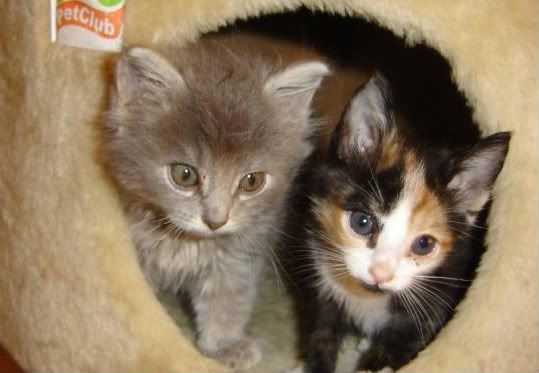 Kittens offer love and affection. Photo: Susan Olsen
How else can you help?
Donations (financial or supplies) are always welcome and volunteer work is greatly appreciated.
"Shelters need people to come and play with the dogs," Olsen says. "This takes a really special person. It is heartbreaking. You will want to take them all home. They are in cages and they're bored. If everyone volunteered at the shelters just once, people would get it through their thick heads how important it is to spay and neuter and be responsible."
Here are some links for more information:
Animal Rescue of Fresno (A.R.F.) (Dogs only):
www.arf-fresno.com
Cat House on the Kings:
www.cathouseonthekings.com
Central California S.P.C.A.:
www.ccspca.com
Emmie's Animal Rescue:
www.earescue.com
Kitten Carpathia (Olsen's kitten fostering page):
http://www.myspace.com/kittencarpathia
Precious Paws:
http://www.preciouspaws.org/
Valley Animal Center:
www.valleyanimal.org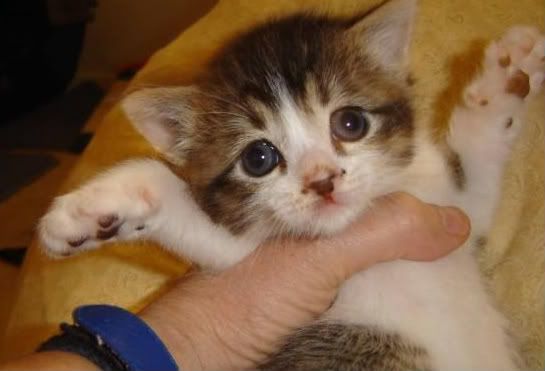 Consider adopting a kitten or fostering kittens. Photo: Susan Olsen