The return of Keith Partridge...er, David Cassidy
Jun

15

2007
Keith Partridge, er...rather, David Cassidy rocked the Tachi Palace in Lemoore last night. Instead of "B-24" or "I-57" in the bingo hall, it was more like "Echo Valley 2-6809." Bingo hall? Okay, so it may not be the stadiums he used to play in, but his teen-idol peek was more than 30 years ago. For those who attended last night's performance, the bingo hall was good enough.
It's been 37 years since "The Partridge Family" made its debut on television and Cassidy rocketed to fame. It wasn't until the show had been in production for several weeks that the producers finally learned that Cassidy could sing as well as act. Watch the first few episodes or listen to the first record, "The Partridge Family Album," and you'll hear a voice that is decidedly non-Cassidy emanating from Keith's lips.
The television show became a sensation. The albums sold well and the hit singles, such as "I Think I Love You," "I Woke Up In Love This Morning" and "Point Me In The Direction of Albuquerque," kept Cassidy and his fictional family at the top of the charts. To further promote the show and the albums, Cassidy went on world tours.
It may be hard to imagine now, but at the peak of his "Partridge Family" fame, Cassidy was the highest-paid live entertainer, playing to sold-out crowds at some of the biggest and best-known venues. The teen fan magazines of the day, like "Tiger Beat" and "16" helped fuel his rise to bubblegum-pop super-stardom. His fan club members numbered more than those of The Beatles or Elvis. Part of the cost of the original fan club membership included a puka shell necklace, a fashion accessory craze that Cassidy himself started (and which is still part of his fan club package available through www.davidcassidy.com today).
In 1974, already exhausted from the extensive touring scheduled coupled with the demands of filming the television show, Cassidy abruptly quit touring and left the series, which was subsequently cancelled, following a concert at London's White City Stadium where fans rushed the gates. Nearly 650 fans were injured and one girl died as a result of the injuries she sustained.
After taking some time off from his career, he returned to television and film roles. He also took on Broadway and London's West End. Touring with his half-brother Shaun Cassidy in the play "Blood Brothers" brought him even more acclaim. In the mid-1990s, he conquered Las Vegas with "EFX," a $75 million extravaganza at the MGM Grand, which became the most-successful production in Las Vegas. Other shows followed. He's also been putting out solo albums of non-"Partridge" material over the years.
But to many, Cassidy will always be "Keith Partridge." "The Partridge Family" has found new life on DVD. The show's albums have all appeared on CD and the singles have been re-released in many repackagings. In 2005, TV Guide ranked him as No. 1 its list of "TVs 25 Greatest Teen Idols." There doesn't seem to be any escaping out from under the Keith Partridge shadow. And Cassidy, who professed to loathe the show and the character in his biographies, has come to embrace them and what they've done for his life and his career.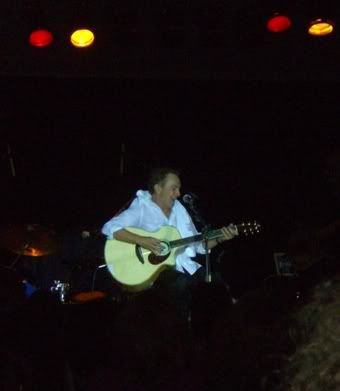 David Cassidy plays before an enthusiastic crowd.
The crowd last night was strictly 40s and up. The friend I was with wondered if the fans would rush the stage. I quipped back, "Hello? They're in their 40s. They're practically in walkers." But by the end of the evening, they DID rush the stage.
Lizbeth Pierce was one of the fans at the show. She came with Joyce Thiel and Dorri Marchetti of Stockton. Pierce says last night marked 176 times seeing David Cassidy perform. She first met him in 1970 and has followed his career ever since.
"I drove all of the way from Michigan, 2600 miles," she says.
She, Marchetti and Thiel were a handful of guests who got to briefly meet Cassidy before the show. Thiel says it was persistence that got them the invitation backstage. Marchetti, armed with copies of Cassidy's two autobiographies, was just thrilled to be there.
"It's been a dream to meet David," she says.

Joyce Thiel, Dorri Marchetti and Lizbeth Pierce wait to meet David Cassidy backstage.
Despite some sort of ordeal encountered on the trip to the Tachi, no time for a sound check and other technical glitches throughout the show, Cassidy seemed to be having a good time. He constantly thanked his fans for being loyal and supporting him over the years. He also had nice things to say about the "Partridge" tunes he sang that made him famous although he shunned them for years afterwards.
Even though it was enjoyable watching Cassidy perform and hearing several "Partridge Family" standards mixed in with other songs (and, oh how much more nostalgic it would have been had Shirley, Danny, Chris, Laurie and even tone-deaf Tracy on her tamborine been backing him, instead of the David Cassidy Band), part of the real pleasure of the evening was seeing the fans in action. From the girls with the long, homemade banner that read "I heart you David Cassidy" (which they held up high, even though they didn't realize it was upside down), to the girl with the old 45 single in its David Cassidy picture sleeve who ran to the stage hoping to get it signed, it was like reliving the 1970s all over again, But instead of being 12, these women were now in their 40s and early 50s. And the former teen idol kissed, hugged and embraced as many of the middle-aged mob as he could. At one point, he was got lei'd on stage as a fan gave him a stunning flower necklace.
Hey David, I think they love you.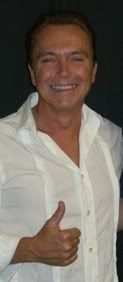 Cassidy gives fans a big thumbs up.