It's been a "fair" year
Oct

09

2008
There are other things we could be talking about right now. The last bout of the Smog City Roller Grrls' season comes to mind. That's this weekend. Or next weekend's FUSE Festival down on the Fulton Mall, where there'll be 20-plus bands playing.
There's also the economy.
But you just can't deny the Big Fresno Fair.
It is the great equalizer.
For two weeks, the entire city — hipsters, gangsters, geriatrics, downtowners, northsiders — all have something in common, even if it is corndogs and huge crowds, horse races and the occasional stink that animals make.
There may be two (or more) Fresnos, as the mayoral candidates like to say. But there is only one Fresno Fair, and you've got three more days to check it out.
Here's what we saw:
My animal instincts
I love animals. Just ask my cat. So, every time I walk by the livestock pavilion I get all gushy and start talking in a high-pitched voice and just want to run up and hug a cow. But I hear that's frowned upon.
They do let you milk goats if you're with the media. They hold a competition, with ribbons and trophies and the whole bit. The technique seems simple — pinch the teat between the thumb and forefinger, then gently roll the other fingers down. Let go. Repeat. In practice, it's not so easy.
But my biggest discovery this year? Cow tipping is a myth. Yup. My source at the fair (some lady brushing a cow) says it's more of a Midwest thing, but still gives it urban-legend status because, as anyone looking can see, cows sleep lying down. Plus, they're friggin' huge.
Fair food ... and drinks
The fair is a glutton's dream. The plan was to eat until I puked — for the sake of this story, of course. That didn't happen. But I did try:
* 1 deep-fried White Castle burger, which may be better than an actual White Castle Burger.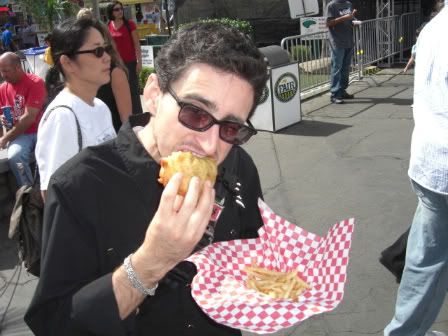 * 1 deep-fried Pop-Tart, strawberry. This is what fair-fried-food is all about, warm, sticky and sweet, almost (almost) to a fault.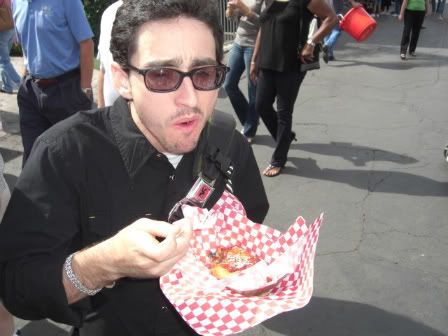 * 1 deep-fried cupcake, which was not battered, just dropped in hot oil. At $5, it was expensive, but worth it, because somehow it's just better than a regular cupcake.


* 1 Orange Julius. Yes, I know you can get this at the mall.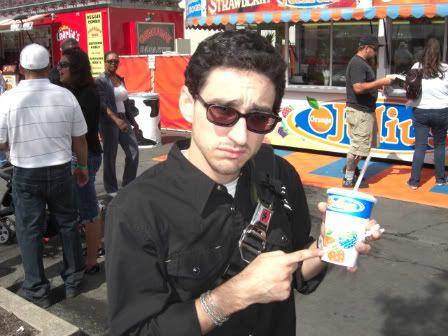 * 1 original soft taco. It's just a simple taco. But it's rolled up, so you can eat it while walking. Genius.
* 1 coffee malt shake. This was just a good way to finish off the day.
And all for $67.50. Just kidding.
What I didn't get to try was Budweiser's American Ale, which I've been looking forward to since those darn commercials that were all over the Olympics. Alas, I was on company time.
Knickknacks and whatnots
People love crap. And the fair has it in abundance, whether it's a Shamwow (which holds 21 times its weight in liquid), an "antique" grandfather clock, or an "Hecho en Mexico" belt buckle. Most intriguing perhaps were the Homies, those tiny plastic figures that sell for $75 at any Robertitos. Somehow, they cost $1 or more, and are kept under locked-glass down at the fair.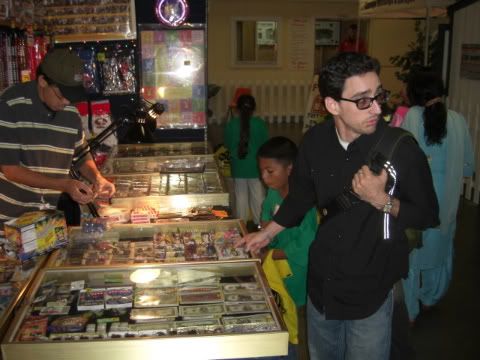 Keep me entertained
The fair's lineup of music is always something to look forward to — even if it's just to ask, "Bret Michaels is still making music? Really?" He plays the fair Oct. 13.
I still remember the year I saw Roger Daltrey (sans The Who), and last year I was amazed by Frankie Valli. I didn't get the chance (nor did I want) to see any of the bands stopping through this year, but there was a group of 8-year-olds singing karaoke at the Mega 97.9 booth. They were doing Soul Asylum's 1994 hit, "Runaway Train," and somehow knew all the words. It must be the miracle of Fresno's "new rock" radio.
The Big (big, big, big, big) Fresno Fair
You've got three more days!
1121 S. Chance Ave. (just look for all the people)
www.fresnofair.com